Nutritionist - Life and Wellness Coach -

Beautician - Skin Specialist - Massage Therapist
| | |
| --- | --- |
| Posted on January 5, 2018 at 1:10 AM | |
Easy and Healthy New Year Habits to incorporate into your routine today!

1. Improve digestive health - with Apple Cider Vinegar: Add a table spoon to a glass of warm water each morning before breakfast to reduce gas and bloating and reduce constipation. If apple cider isn't your thing, try a half a lemon instead.
2. Feel happier – By practising Gratitude: Start a daily gratitude journal. Studies have shown this daily practise can increase life satisfaction, boost your mood and even help you sleep. Gratitude helps people relish good experiences, improve their health, deal with adversity, and build strong relationships.
3. Drink more water – By setting reminders on your phone: Handy reminders and apps now exists to help you stay on top of your hydration levels. Staying hydrated results in improved energy, concentration and skin health. So get sipping.
4. Improve your posture – By stretching on your lunch break: Increased flexibility will help improve poor posture. Aim to set aside 5 minutes on your lunch break to get those muscles stretching. So what exactly is good posture? Yes, your teachers or parents probably told you to 'sit up straight' all the time, but proper posture also includes an opened chest and lengthened spine, which should help your body feel taller and breathe easier.
5. Eat more vegetables – By including veggies with breakfast: A great way to boost your veggie intake is to start your day with a big helping of assorted vegetables. Try vegetable fritters, sautéed mushrooms, steamed spinach, grilled asparagus, tofu scramble with capsicum and broccoli or a kale and zucchini slice.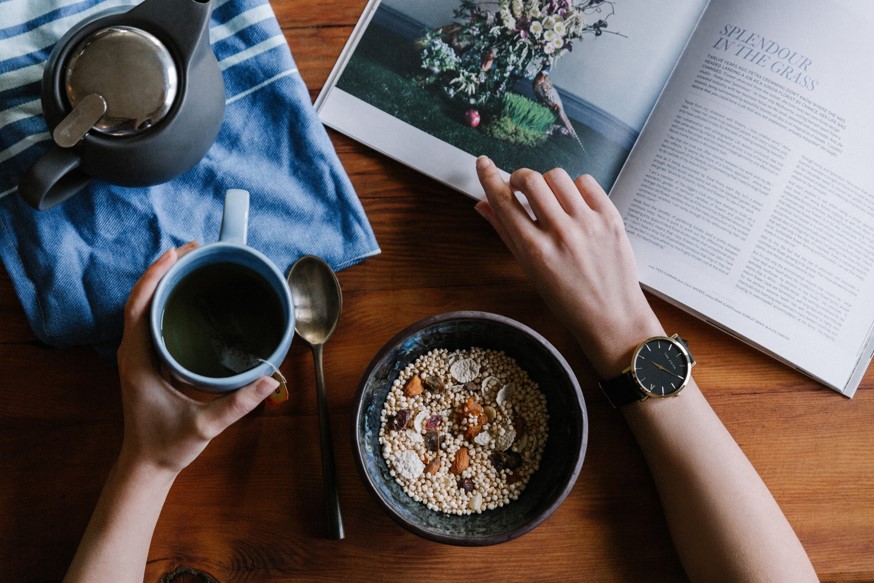 Categories: None
/