Nutritionist - Life and Wellness Coach -

Beautician - Skin Specialist - Massage Therapist
| | |
| --- | --- |
| Posted on October 12, 2020 at 9:55 PM | |
Currently 1 million Australians are living with depression each year. Depression is one of the most common mental health problems experienced by young people with three quarters of mental illnesses occurring before the age of 24. Research has also found that men are less likely than women to seek help for their depression with only 13% of young men aged 15-24 seeking help for their mental health. Standard treatment options for depression include antidepressant medications and talking therapies. Although these options help many people, they can sometimes be expensive, ineffective and result in unwanted side effects. New evidence-based treatment options are urgently needed to assist with this growing health crisis. Interventions aimed at prevention or early treatment of mental disorders should therefore focus on young adults.
Recently, the role of diet in mental health has been gaining much attention. Studies have shown that healthier eating patterns such as a Mediterranean Diet are associated with a reduced risk of depression while unhealthy "western" style diets are associated with increased depression risk. We also know that there are large differences between the eating patterns of men and women. With men eating fewer fruits and vegetables and consuming more high sugar foods and alcohol. However, studies on diet pattens of men with depression is lacking.
To understand the diets, nutritional knowledge and opinions of young men (aged 18-25) with depression, we designed a cross-sectional online questionnaire. We surveyed 384 young men and uncovered a number of important findings.
Most Significant Findings:
• Diet quality among young men with depression is relatively poor.
• Most discretionary foods were consumed 2-3 times per week such as pizza, fried potato such as French fries or hash browns and chocolate.
• Roughly half of participants (47%) report never consuming wholegrains or legumes.
• Only 9% consume two or more serves of vegetables per day!
• Despite their relatively poor diets, the majority of participants (84%) believe it is 'important' or 'very important' to eat an overall healthy diet.
• Potential barriers to healthy eating were highlighted. The majority of participants indicated that they perceive healthy eating to be both expensive and time consuming.
• Two thirds of participants feel that their diet has an effect on their mental health.
• Only 5% report not noticing any effect of diet on their mental health.
• Encouragingly, the majority (77%) indicated that they will consider changing their diets if it helps their symptoms.
• This data supports the viability of dietary intervention trials in this demographic.
So what are our next steps?
We are currently in the process of recruiting for a randomised clinical trial which tests the effect of a Mediterranean diet or social support on the symptoms of depression in young men. More information about the study can be found at: https://mendds.wixsite.com/ammend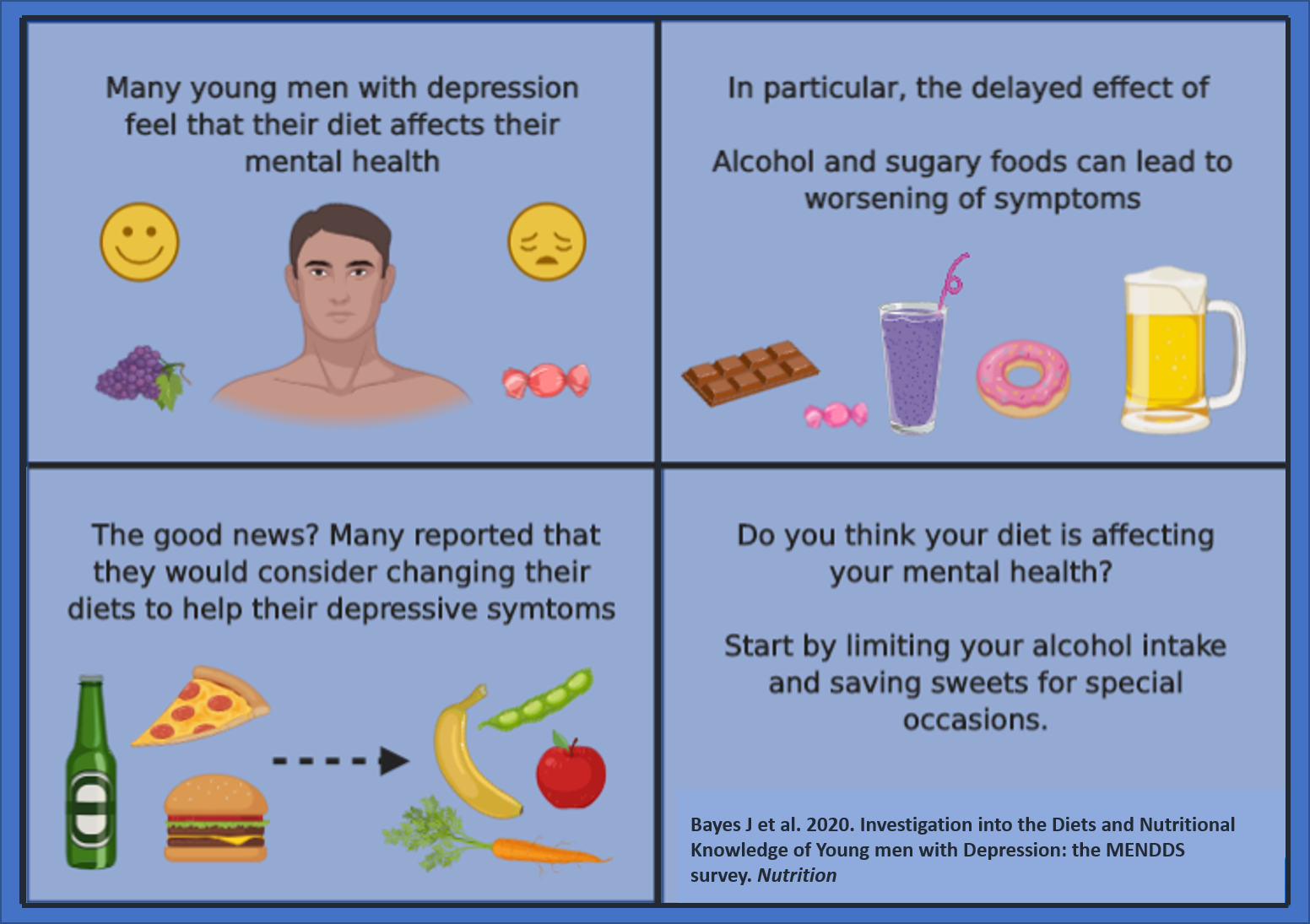 https://www.sciencedirect.com/science/article/abs/pii/S089990072030229X?dgcid=author


 

Categories: None

Comments are disabled.

0

/